D-Day Lodge 8138
Meet at The Royal British Legion Club
145 Brockhurst Road, Gosport. Hants  Po12 3AX
Fridays at 8pm
Secretary – Unknown (sorry) – 
The D-Day Lodge was formed in October 1949 by Bro. L.F. Searle. KOM. late of the Royal Army Service corps, a veteran of Dunkirk, together with Bro. W. H. Johnston. KOM. Late of His Britannic Majesty's Navy who took part in the Allied Landing on Normandy in 1944: Bro. W.B. Carpenter. CP.  &  Bro. A.W.H. Sawyer. CP  & Bro. P. Martin. CP.
The Inaugural meeting took place at the Red Lion Tap Room at 7-00pm, on 4th October 1949.
Since that far off day, the Lodge has moved twice. Firstly to the Fareham Borough Council Sports & Social Club at Wallington thence to the Searles Sports & Social Club, Newgate Lane, Fareham, when it met every Wednesday at 8-00 pm.
The following is the original concept and explanation of the Lodge Jewel as seen through the eyes of the Founder Members.
The coat of arms of the D-Day Lodge 8138 of the Royal Antediluvian Order of Buffalos contains a shield of four colours: –
The Light Blue of the backing represents the Fourth Degree, and the Royal Air Force.
The Red represents the Third Degree and the Armed Land Forces.
The Dark Blue represents the Second Degree and the Naval Forces.
The White, being the most important of the colours on the shield, standing for the outcome of Peace and survival of those Brothers who returned.
Contained in the colours of the ribbon are the colours of the Services and the Armed Forces of our Allies who took part in the landings on that auspicious day:
The three Arrows represent the beachheads of Gold, Juno and Sword of the British Forces who landed on the 6th June. 1944, in Normandy:
The Chevron in the middle of the shield is to show the determination of all who took part in the landing on that day and the way forward to Victory & Peace.
 To commemorate the fiftieth anniversary of the D-Day landings, President Bill Clinton visited our shores.  In honour of his visit, the D-Day Lodge sent him a letter together with a Lodge Jewel.  Above is a copy of the letter received by the Lodge signed personally by him.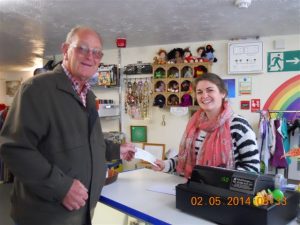 This picture shows Bro. Clive Searle ROH handing a cheque for £100 to a representative of the Rainbow Trust in Fareham as a donation from the D Day Lodge in recognition of the work they carry out in the community and their continuing need for funding.
The picture was taken by Bro Dave Coote ROH, then City Secretary.