Appeal For 2008
Total raised for the Appeal was £3040.50
Two appeals; the first is St Francis School in Fareham.
Hoping to donate towards computer accessories and new playground.
Second is The Gosport Opportunities Group who will be receiving their new mini bus on the 29th of this month which I shall attend for the handing over of the keys.
But like everything else, when they receive the mini bus they won't be able to garage it as the old garage will be too small.  There is a parent of one of the children who is a builder and will build a new garage free of charge but monies have to be raised for the cost of materials.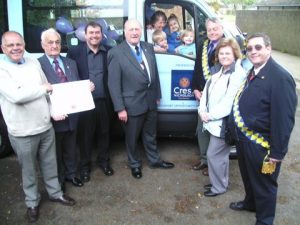 Presentation of the New Mini Bus to The Gosport Opportunities Group
The PGP Bro Alan Wetton KOM. accompanied by Bro Colin Budden KOM. PPGP.
In attendance as two of the donors to this very worthy cause.
Bro. Alan Wetton.
KOM. PGP.