Appeal 2005
Total raised for the Appeal was £3,170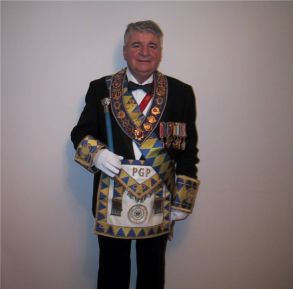 Provincial Grand Primo 2005 – Bro Richard Ashton KOM
My main Charity for this year is The Rainbow Centre
I feel that this is a most worthy cause and hope that we can raise a substantial amount towards their goals. So far this year we have made good strides towards raising a record amount for these good causes, so I ask all Brothers to make an extra effort this year.
At my "Installation Dinner" last evening, we made substantial funds towards this appeal.
Please keep up the good work.
As my year in office draws to a close, I wish to thank all Brothers & the Sisters of the Mimosa Ladies Glade for the great support that they have given to my fund raising efforts throughout the past year.
I think a special vote of thanks must go to Colin & Heather Budden for their sterling efforts. Also the Annual Toy Service which raised £200 plus a lot of toys for the children as well.
So far I have given £2,800 to the Rainbow Centre.
Since having made that presentation I have received further donations of £200 + a further £170.
A total of £370 which will be going to the Rainbow Centre in the New Year.
Making a Grand Total of £3,170